Wenn man das Check_MK Monitoring nicht über den Standardport (xinet) laufen lassen möchte / kann besteht dich Möglichkeit dies über eine SSH Verbindung zu realisieren. Hierfür muss nur einiges an Vorarbeit erledigt werden.
Auf jedem Host der zu monitoren ist legt man einen User für den Check_Mk Agents an.
useradd -d /home/monitor -c 'CHECK_MK User' -g monitor -m -s /bin/bash monitor
Auf dem
Monitoring-Server
einen SSH Key für das monitoring erstellen. Dazu logt ihr euch über ssh auf dem Server ein und wechselt mit
su - sitename
auf die Check_MK Site (User). Dort legt ihr ein SSH-Keypair an.
ssh-keygen -t monitor
dann zeigt ihr euch den schlüssel über cat an und pflegt diesen auf den zu monitorenden Hostsystemen unter dem User monitor ein
( /home/monitor/.ssh/authorized_keys )
cat ~/.ssh/id_monitor.pub
Eintrag auf den Hostsystemen :
command="sudo /usr/bin/check_mk_agent" ssh-rsa [SSH KEY DES SERVERS]
Jetzt muss noch die sudoers Config angepasst werden.
vi /etc/sudoers
Dort fügt man die folgenden Zeilen ein, trägt man den User
monitor
ein

# Allow User monitor to run check_mk_agent
monitor ALL=NOPASSWD: /usr/bin/check_mk_agent

Jetzt kann man das bis jetzt mal testen.Wenn ihr euch über
ssh
auf dem Host als User
monitor
anmeldet, oder den
check_mk_agent
lokal
auf dem Host als User
monitor
ausführt, muss der selbe output zu sehen sein.
Ist das der Fall muss jetzt noch in der WATO eine Regel erstellt werden.
Unter
Host & Service Parameters
→
Datasource Programs
→
Individual program call instead of agent access
eine Regel für die Umgebung erstellen
	ssh -i ~/.ssh/id_rsa -o StrictHostKeyChecking=no monitor@$HOSTADDRESS$
dann sollten nach einem TabulaRasa alle Services zu sehen sein.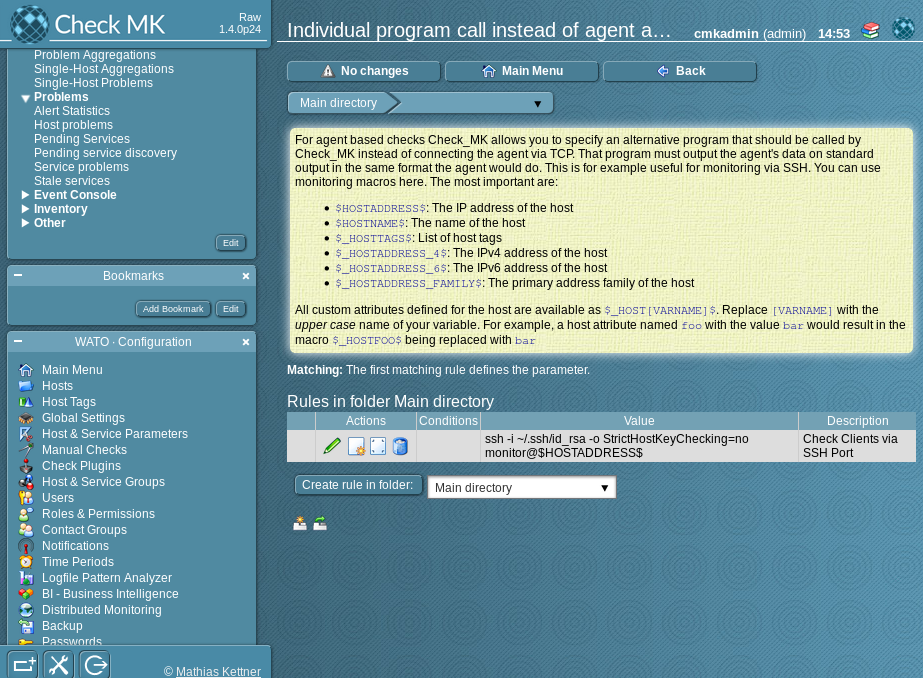 check_mk_agent über ssh
Mehr Info :
Check_MK - Anleitung zu diesem Thema