Ich habe mal wieder eine kleine Fingerübung in VB.NET gemacht, rausgekommen ist ein Vorlagen Manager für alle Arbeitsgruppen Vorlagen unabhängig von der Anwendung. Ob das Sinn macht oder nicht ist egal es war mal wieder eine gute Übung für mich. Wenn man zur Laufzeit Elemente erstellen möchte gibt es einiges zu beachten. In meinem Beispiel erstelle ich eine TabPage im TabControl und füge ein ListView Element hinzu.
Formular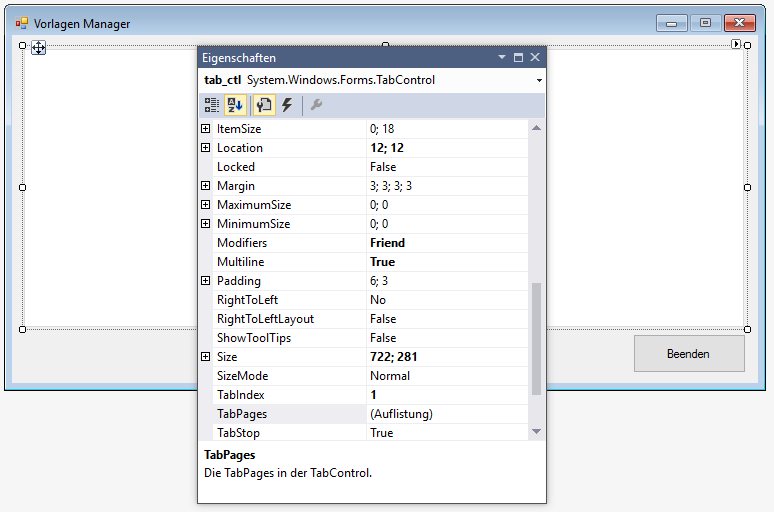 Benötigt
Imports System.IO
Deklaration für den Pfad in der Klasse:

Dim varPath As New DirectoryInfo("pfad zu den Arbeitsgruppen Vorlagen")

Sub für das erstellen zur Laufzeit :

Private Sub AddTabPage()
    Dim tempPage As TabPage
    Dim LView As ListView
    For Each oSubDir As DirectoryInfo In varPath.GetDirectories
        tempPage = New TabPage(oSubDir.Name)
        LView = New ListView()
        With LView
                .Dock = DockStyle.Fill
                .View = View.Details
                .Name = "lvw_" & oSubDir.Name
                .GridLines = True
        End With
        tempPage.Controls.Add(LView)
        AddHandler LView.DoubleClick, AddressOf OpenFile_DoubleClick
        AddHeader(LView)
        If oSubDir.GetFiles.Count > 0 Then
                tab_ctl.TabPages.Add(tempPage)
                GetFilesFromFolder(oSubDir, LView)
        End If
    Next
End Sub
Um das erstellte Listview auch mit einem onKlick oder wie in meinem Fall DoppelKlick zu versehen wird AddHandler benötigt.
Dieser verweist in meiner Sub auf die Funktion OpenFile_DoubleClick

Private Sub OpenFile_DoubleClick(ByVal sender As Object, ByVal e As EventArgs)
        Dim lv As ListViewItem = CType(sender, ListView).FocusedItem
        Dim App As String = UCase(lv.SubItems(1).Text.ToString)
        Dim Template As String = lv.SubItems(2).Text.ToString
        Dim var_proc_start As String
        Select Case App
            Case "WO"
                var_proc_start = "winword.exe"
            Case "EX"
                var_proc_start = "excel.exe"
            Case "PP"
                var_proc_start = "powerpnt.exe"
            Case Else
                var_proc_start = Nothing
        End Select
        If Not (var_proc_start Is Nothing) Then
            Process.Start(Chr(34) & OfficePfad & var_proc_start & Chr(34), "/N " & Chr(34) & Template & Chr(34))
        End If
    End Sub

Hier werden die Header für das ListView Element geschrieben

Private Function AddHeader(ByVal Lstview As Object)
  Dim HEAD1, HEAD2, HEAD3 As ColumnHeader
  HEAD1 = New ColumnHeader
  HEAD2 = New ColumnHeader
  HEAD3 = New ColumnHeader
  With HEAD1
          .Text = "Vorlage"
          .TextAlign = HorizontalAlignment.Left
          .Width = 650
  End With
  With HEAD2
          .Text = "Typ"
          .TextAlign = HorizontalAlignment.Center
          .Width = 50
  End With
  With HEAD3
          .Text = "Pfad"
          .TextAlign = HorizontalAlignment.Left
          .Width = 5
  End With
  With Lstview
          .Columns.Add(HEAD1)
          .Columns.Add(HEAD2)
          .Columns.Add(HEAD3)
  End With
End Function

Datei Typ ermitteln :

Private Function Get_File_Type(ByVal File As FileInfo)
        Dim FTYPE As String
        Select Case File.Extension
            Case ".dotx"
                FTYPE = "WO"
            Case ".xltx"
                FTYPE = "EX"
            Case ".potx"
                FTYPE = "PP"
            Case Else
                FTYPE = "NA"
        End Select
        Return FTYPE
    End Function

Dateien in das Listview Element eintragen :

Private Sub GetFilesFromFolder(ByVal Folder As DirectoryInfo, ByVal oLiVi As Object)
        For Each File As FileInfo In Folder.GetFiles
            If File.Name.Substring(0, 1) = "~" Then
                Exit Sub
            End If
            Dim Item As New ListViewItem(File.Name)
            Item.SubItems.Add(Get_File_Type(File))
            Item.SubItems.Add(File.FullName)
            oLiVi.Items.Add(Item)
        Next
    End Sub

Form Load :

Private Sub Form1_Load(sender As Object, e As EventArgs) Handles MyBase.Load
   AddTabPage()
End Sub

Es gibt bestimmt schönere Weg oder auch andere die besser wären, wenn das so ist schreibts mir in die Kommentare. Ich bin bis jetzt zufrieden es funktioniert